Just Sew Helen's Blog
Hello & welcome to my blog where I will share an insight into my life, values and behind the scenes of Just Sew Helen.
This blog will show you the topics that inspire my small business including my love of sewing & dressmaking, hand embroidery and my exclusive baby loss & remembrance gifts. Underlying the creation of Just Sew Helen are women's health & pregnancy loss issues.
You can also find me over on Minerva & I have recently joined the Simple Sew Blogger Team.
I look forward to sharing my posts - feel free to make any comments.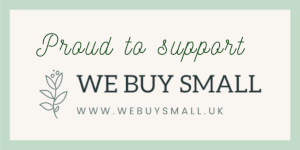 Follow me on Bloglovin'
» Listings for April 2019
Lounge Wear - New Look 6142

Posted on

Welcome to this month's post on the Minerva Crafts Blogger Network - an outfit made using pattern New Look 6142.

Quilted Patent PVC Bag - Product Review

Posted on

I recently received some fabric from Minerva Crafts to review and had the pleasure of using this black patent pvc fabric. I decided to make a bag and experiment with internal pockets.

I was really pleased with the finished bag and now use this for my travel sewing bag.

The full review and more details can be over on the Minerva Crafts Blog.

Thanks to Minerva Crafts for the fabric.